Radcliffe Row is launched!
Radcliffe Row is a contemporary high quality local centre forming part of the greater 52 hectare Abbotswood development located to the North East of Romsey town centre. Romsey is an attractive market town which was home to the 19th Century British Prime Minister Lord Palmerston. The Abbotswood scheme has been substantially developed over the last few years and provides approx. 800 new homes, in addition to a substantial care home, children's day nursery, Co Op convenience store and community facilities which form part of this forward thinking mixed use scheme.
The Radcliffe Row element is the retail focus of the centre and will provide a hub for the local community. It comprises six well laid out retail outlets on the ground floor together with five two bedroom apartments at first floor and a self-contained office suite. The retail part benefits from a number of planning uses, which opens a wealth of opportunities for new local businesses to thrive.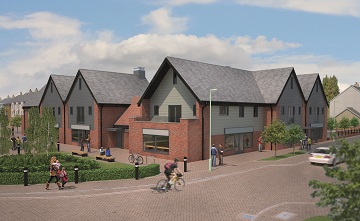 The stores are available to purchase or lease with or without residential accommodation above to suit occupier demand. All units are finished to a high standard and benefit from on site parking for staff.
The development has been undertaken by Perbury Group, a local family operated development company which celebrated 65 years of trading in 2018. Perbury specialise in providing high quality developments in the residential and commercial sectors around Hampshire. They have carefully crafted this development to fit in with its surroundings and with the aim of meeting the demands of the community to make Radcliffe Row a success and add to the vitality of the wider Abbotswood development. The uses will complement those already available nearby within scheme and in the wider Romsey area.