David Lealan puts in "oarsome" performance at the Thames Great River Race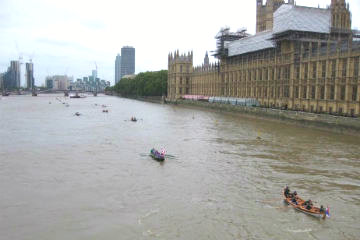 Primmer Olds B.A.S Head of Property and Asset Management completed the 21.6 mile "London River Marathon" as part of the annual Thames Great River Race.
Rowing as part of the Scout affiliated "Hamble Sea Scouts Veterans" team, David completed the course in a highly respectable 3:15:32 finishing in 110th position out of a total 324 boats.
The race began at Millwall Riverside and involved the crews passing under a total of 28 bridges on a route that took them through Central London, passing by Canary Wharf, Tower Bridge and The Houses of Parliament, before finishing at Ham House, Richmond.
The gruelling course was made even tougher by poor conditions with rowers hampered by wind and rain throughout. David commented; "Not being a regular rower this was quite a challenge; also the weather was not kind to us swinging to wind over tide shortly before the start to make it that much harder. It is a fantastic event with teams of all levels competing and with hands now hardened I hope to be back next year. I must congratulate our Hamble Sea Scouts under 18 team on winning their age category, the Scout affiliated category and finishing 36th overall, their hard work over the summer paid off again!"
The popularity of the race has grown rapidly since its inception in 1988 when a total of 72 crews took part. Now it has more than quadrupled in size and attracts serious racers and leisure rowers alike, as well entrants from all over the world. The event is now the biggest and the most prestigious of its kind in Europe with over 2,400 competitors every year.