Primmer Olds Chartered Surveyors has merged with BAS Property Consultants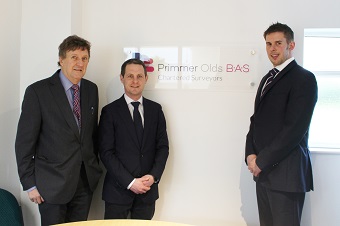 Primmer Olds LLP, one of South Hampshire's most active agents and leading firms of Chartered Surveyors has merged with BAS Property Consultants Ltd to form Primmer Olds B.A.S.
The merger is the culmination of four successful years working collaboratively on client projects. The combined business will provide an expanded multi-disciplined operation spanning all major property and surveying sectors.

The business will be led equally by Primmer Olds Partners', Duane Walker and Robert Primmer and BAS Director Bradley Smith. Each will continue their respective roles leading the three core areas of work; Agency, Professional Services and Building Consultancy.
The business has invested heavily in its new shared identity, website, combined team and IT to ensure it provides a first class level of service for its growing client base going forward.
Both companies wish to thank their respective clients for many years of loyalty and are certain this will be the beginning of a long and exciting partnership for the future as the new look of Primmer Olds and BAS.
Duane Walker commented: "The two firms combined with different skills but same client focused approach will have a massively positive effect on what we can achieve for our clients going forward."
Robert Primmer added: "Going forward the addition of a strong building consultancy team will broaden the scope of work we already undertake."
Bradley Smith said: "It is very exciting times for our team here and all of our clients and I truly believe this puts us in a great positon to offer both existing and new clients a true one stop multi-disciplined service for all of their property and portfolio needs."
For further information please feel free to contact:
Duane Walker - dwalker@primmeroldsbas.co.uk
Robert Primmer - bprimmer@primmeroldsbas.co.uk
Bradley Smith - bsmith@primmeroldsbas.co.uk

Primmer Olds B.A.S will be a trading style of Primmer Olds UK Ltd and BAS Property Consultants Ltd both of which are RICS regulated firms.