Major city centre regeneration schemes – party wall work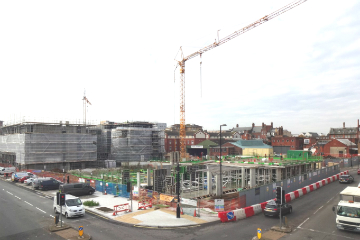 Primmer Olds B.A.S have been appointed to act as Adjoining Owner Party Wall Surveyors on two major redevelopment schemes in Southampton, the development of the former Fruit & Vegetable Market and the development of vacant land located between Canal Walk and East Street. These schemes are both part of the vision to regenerate the city centre and create hundreds of new homes.
The private rented sector (PRS) development on the former market site will comprise almost 300 flats and shops in a complex worth £60m. Our Adjoining Owner's building is a circa. 10,000 sq ft 1960's warehouse abutting an office building which is scheduled to be demolished. Many neighbouring commercial premises bordering Back of Walls and Market Place are expected to remain open for business.
The land located between Canal Walk and East Street had been earmarked for redevelopment for a number of years and Primmer Olds B.A.S are acting for several premises which will be affected by the new development. The most recent permitted scheme will comprise a 5-storey block of apartments. Many neighbouring owner buildings and the Historic Walls of Southampton will be protected under The Party Wall Act.
Our involvement in these schemes showcases Primmer Olds B.A.S Building Surveying expertise in respect of Party Wall matters for the regeneration of the City.