Major Pre Let at Dorset Business Park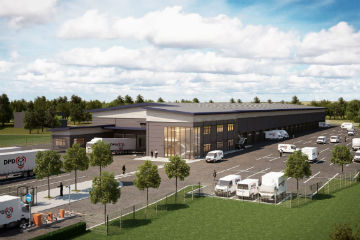 Glenbeigh Developments Ltd are delighted to confirm DPD will fit out their new depot at Cobham Gate Business Park on Ferndowns Industrial Estate in Spring 2017 after work started this month on the enabling and construction works at the new park in heart of the estate.
Funding was provided by a new fund (TPIF) operated by Tritax Ltd alongside a Growing Places Fund loan from the Dorset Local Enterprise Partnership, administered on its behalf by Dorset County Council.
This is phase 1 of the site where planning is available for a total of 400,000sqft being one of the region's most important employment allocations. Other plots are now available for prelets or sales, the marketing agents are Cowling and West, DTRE and Primmer Olds B.A.S. www.cobhamgate.com.
The enabling and DPD build package was awarded to local contractor Mildren Construction Ltd.