High-Flying Surveyors
The use of unmanned aerial vehicles (UAV) or drones has transformed the way a wide range of industry sectors conduct their business, none more so than surveyors.
Given the pace at which drones have become popular, the UK Civil Aviation Authority (CAA) has implemented an approach to drone regulation with the objective of striking the right balance between managing risk to the public whist allowing the industry to grow.
Primmer Olds B.A.S. Building Consultancy team have adopted the use of drones on several recent building inspections where access to high level construction details and roofs would be either unsafe, uneconomical or impractical via the more conventional means of a mobile access platform (cherry picker) or scaffolding.
The two examples shown in this E-Shot demonstrate different levels of survey that we have carried out using drones satisfying individual client requirements.
In the first example, we were instructed to undertake a Building Acquisition Survey on behalf of a prospective purchas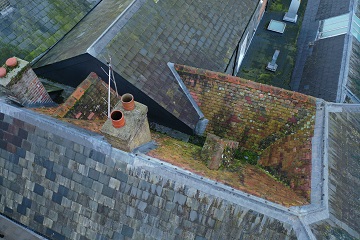 er of a Grade II Listed Building, 20A The Hundred, located in Romsey. As the building formed part of a terrace, it shared a number of roofs, valleys and drainage details with neighbouring properties. Through an entry-level drone survey, we were able to provide a Visual Record of the roofs, which we could review at our desk prior to carrying out our inspection of the building. This allowed us to identify the causes of certain issues internally in the building that related to the condition of the external fabric at high level, particularly the roof(s).
In the second example, Notebeme House is a building we manage on behalf of a portfolio client where the tenants had complained of water ingress issues. Our initial visual inspection internally and in the ceiling voids were inconclusive. The 4-storey office block is located in a prominent position in Southampton opposite Town Quay with exposure to high winds. To conduct an external inspection via a cherry picker would have required pavement licences and partially closing one of the busiest roads in the City. The main roof is of barrel construction and only accessible via a safety lanyard system. Visibility of the bay window flat roofs was limited from inside the building and via ground level vantage points. Through an advanced-level drone survey, we were able to provide an external Condition Survey and Thermal Imaging Survey. The results assisted us in making recommendations to the client regarding prioritising repairs and further investigations. The images recorded are also used to accompany specifications within tender documentation to assist contractors to accurately price necessary works.
If you would like further information on the drone surveys that we offer, please contact our Head of Building Surveying, Nick Pavlou.